Our Llamas
Our ranch is basically an old-folks home for llamas. They are enjoyable to watch and do supply their manure in nice piles that are easily collected and blended into the garden soil.
Llama reproduction is easy, the trick is to not be so enamored of seeing the cute crias that your herd grows excessively. Our ladies roam together over about 30 acres while the males live in pens and oogle at the ladies. Each spring, we halter up three of the males and let them eat the new grass around the house and driveway.
---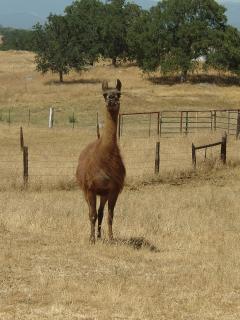 Mandy is our matriarch. In our herd, she is a great-great-great grandmother, but she has sons and daughters in other herds and may have an additonal generation or two by now. She remains healthy and "straight-backed". Would that we could all age so well! At 35 years old, she is oldest we know of among about 100 llamas.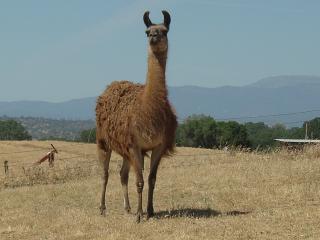 Marilla is Mandy's daughter.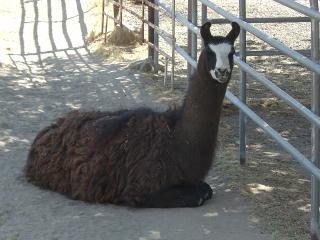 Shadow is the son of Magic and Mandy. He shares their relaxed personalities. He is easy to halter.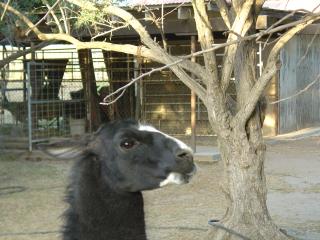 This is proud Baxter, son of Lindsay, great, great, great grandson of Mandy. He is high-strung and aloof. He has been haltered, but it was not worth the effort.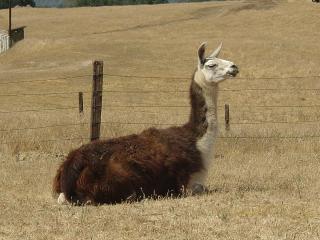 Lindsay, great-great granddaughter of Mandy, mother of Baxter.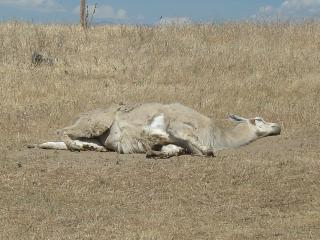 Skeeter, another great-great granddaughter of Mandy, is the most curious of our llamas. Here she is demonstrating the common llama pose, often mistaken for being dead. Actually, she is just totally relaxed in llama dreamland. We have had people call us to report a "dead llama" when they see this sight.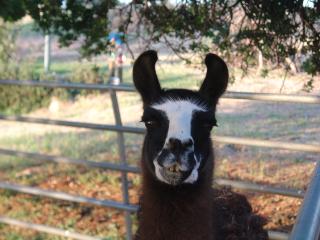 Magic - a mild old boy, always easy to halter.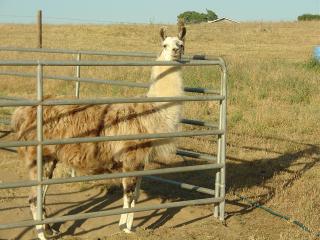 Pongo, a big fellow who always eats all of his hay. When being haltered, he tends to harmlessly express his irritation by spitting across my bow - not at me, just safely in front.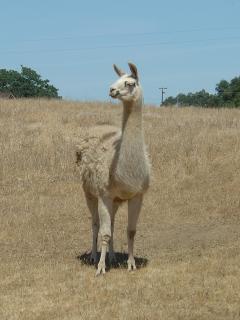 Cuya Pique, daughter of Mandy and would-be leader of the ladies as Mandy steps back.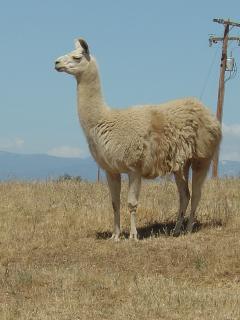 Chela Rose, Mandy's granddaughter and Cuya's daughter.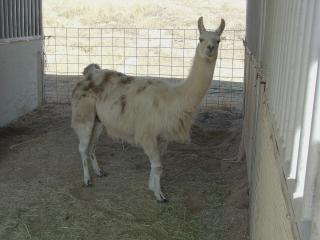 Erika is our sweetest and most gentle llama. She was acquired from a friend. She tends to excess weight and is susceptible to overheating in the summer so she summers in a roofed pen adjacent to Pongo.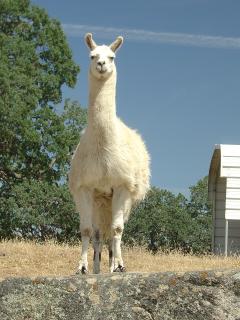 McMurray - King of the mountain. He has the best pen and knows it.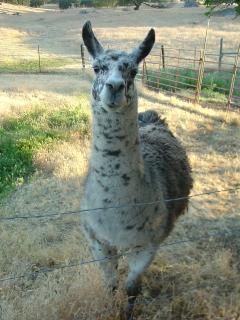 Bugsy - our garbage disposal with a pen just outside the south wall near the kitchen door. Bugsy, like Baxter is also Mandy's great, great, great, grandson.

---
Last updated: March 31, 2006

Craig Van Degrift if you have problems or questions with this web site.