A few pictures from hikes up Mine Creek from the junctin of the Tioga Road and the road to Saddlebag Lake
Clicking on small pictures produces a larger one.
July 1, 2007
A hike with Richard and Joey Radanovich shared with lots of mosquitos. After we reached Spuller Lake, we headed up to a ridge to avoid the mosquitos.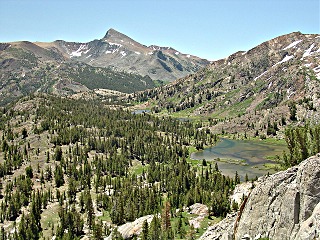 The lower part of Mine Creek showing Shell Lake at the left and Fantail Lake at the right. Mt. Dana is the high peak in the background.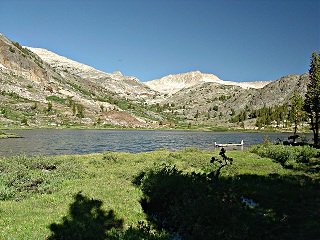 Looking up the valley from Fantail Lake, we can see Mt. Conness in the background. Creeks feeding Mine Creek cascade down the valley walls.

---
July 14, 2012
Another trip to Bennettville, this time with grandkids.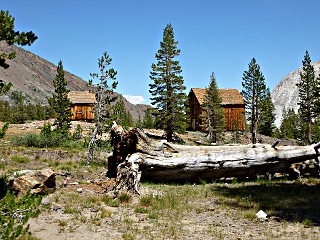 The remaining two buildings of the Bennettville ghost town located just below Shell Lake on Mine Creek.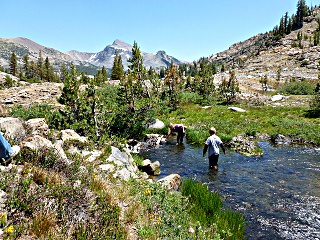 Grandkids playing at the outlet of Shell Lake. Mosquitos were not a problem.

August 18, 2012
This trip with Marren and Richard Radanovich was a delight. There were no mosquitos yet the meadows were green and the creek bubbling along nicely. Most wildflowers, however, had finished.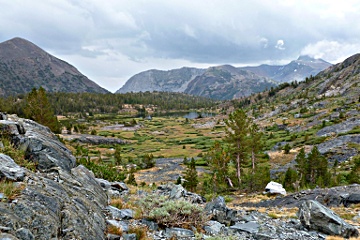 Looking down Mine Creek valley from above Fantail Lake. The top of Mt. Dana is in a cloud on the upper right and Tioga Peak is at the upper left.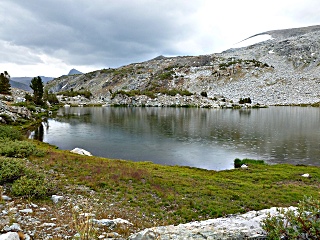 Upon following Mine Creek farther above Fantail Lake, one reaches Spuller Lake shown here.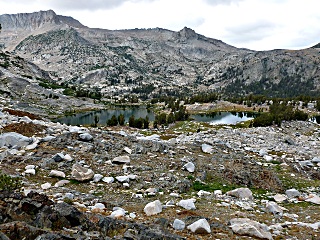 After hiking above Spuller Lake, one reaches an overlook onto Green Treble Lake (shown here) and Maul Lake off the picture to the right. The edge of Mt. Conness is in the background with Conness Glacier hidden behind the right side of Mt. Conness.

---
Last updated: March 15, 2013

Craig Van Degrift if you have problems or questions with this web site.