Note: Clicking on pictures brings up 1280x960 versions
Notes about the trail from Tenaya Lake to Cloud's Rest - September 6, 2015
The trail from Tenaya Lake to Cloud's Rest is a popular and beautiful trail with varied terrain, but it is easy to underestimate the effort required because there are quite a bit of ups and downs. Looking from Olmsted Point, it looks like a rather easy hike. A quick check on a map suggests that the elevation rise is 1800 feet ending at just under 10,000 feet. The round-trip distance from the road is about 15 miles.
This table shows that the actual upward hiking required for the round-trip is nearly 3200 feet.
After a couple of miles of nearly level hiking from the south end of Tenaya Lake, the trail rises abruptly to a junction at 9210 feet. Years ago, I went left passing several lakes, the Sunrise High Sierra Camp, Cathedral Lakes, and ending at Tuoloume Meadows. The right-hand branch goes toward Cloud's Rest and Yosemite Valley. It dips down 350 feet to a meadow and wanders up and down a bit, past a small lake, and to a junction before the final rise to Cloud's Rest. That junction has signs, but strangely, no mention of Cloud's Rest. They suggest two ways to Yosemite Valley. The right path is the one to Cloud's Rest, rising to the ridge with a few false peaks along the way.
As you move along the ridge toward Cloud's Rest, the path becomes a relatively easy boulder scramble unless you are afraid of heights. From the summit, the view can be spectacular on a clear day. Unfortunately for me, my trip was during the Rough Fire in King's Canyon and there was a significant haze through the Sierra and San Joquain Valley. Look to Google Images for pictures from the summit, mine are not impressive.
Initial Attempt to Cloud's Rest - July 19, 2015
My initial attempt to Cloud's Rest got me to Junction 2 (see table) where I turned around because of exhaustion. I could, however, have used the excuse of weather since it was clear that a thunderstorm was forming and people should avoid exposed rocky outcroppings like Cloud's Rest in such weather. Two friends with me and many others continued to the top. Upon returning, there were reports that the electrostatic voltages were so great that hair stuck out from heads and small pebbles seemed to float above the rocks!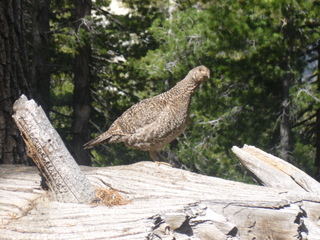 On the way up from Tenaya Lake, we saw a family of Grouse, the male displaying his sunflower spots behind some grass, and this female on a log next to the trail a bit higher up hustling her chicks.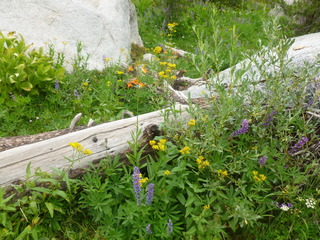 This is a sample of the great wildflower display in the hanging valley between Junction 1 and Junction 2.

On the way back, it rained lightly with thunder and lightning on the peaks.

---
Last updated: September 8, 2015
Contact Craig Van Degrift if you have problems or questions with this web site.