A few pictures from hikes up Mt. Dana next to Tioga Pass in Yosemite National Park.
On July 1, 2007, Richard Radanovich, Joey Radanovich, and I simply went up Mt. Dana and back down the usual route from Tioga Pass.
On June 22, 2008, we again went to its summit, but then returned via a loop that crossed a narrow ridge to Dana Plateau and decended down Glacier Canyon. The Mt. Dana region is shown in this map with the Tioga Pass starting point off the map at the left. A detail of the ridge crossing is shown on this blowup.

On August 14, 2009, we again went to its summit. This time the view of Mono Lake was the clearest I have seen in 7 visits since 1963 (see below).

On September 18, 2011, I took a full set of pictures for a 360-degree panorama from the top.

On October 4, 2014, we again went to its summit. Details are given below, but there is no point in posting new pictures
Click on these images to obtain images with greater resolution

---
July 1, 2007 Trip: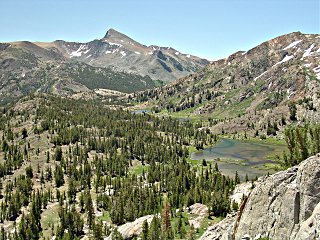 The lake in the foreground is Fantail Lake on Mine Creek. Going down the creek we see an unnamed lake, and Shell Lake. Just below Shell Lake is the ghost town of Bennetville. The reddish peak in the background is 13061-foot high Mt. Dana viewed from the North.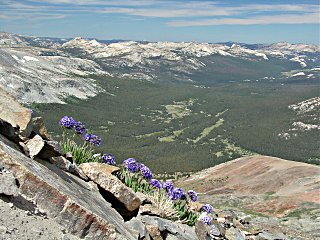 Nearing the top of Mt. Dana, we found a number of clusters of these gorgeous and hardy Sky Pilot (Polemonium eximium) flowers. In the background is Dana Meadows at the center, and Tuolumne Meadows with Lembert Dome at the far right. The green stretch going off toward the upper left passes over Tuolumne Pass and descends to Merced Lake and ultimately to Yosemite Valley.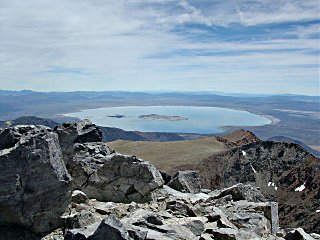 Mt. Dana's summit provides a spectacular view of Mono Lake.

---
June 22, 2008 Trip: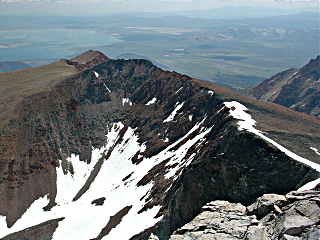 Looking southeast from the summit, one can see the ridge connecting Mt. Dana with Dana Plateau. Dana Lake and Dana Glacier are in the canyon between us and Dana Plateau. A portion of Mono Lake can be seen at the upper left.
We were not sure we could cross this ridge safely. Should discretion become the better part of valor, we were prepared to descend via the canyon between Mt. Gibbs and Mt. Dana and circle back to our cars via the western base of Mt. Dana.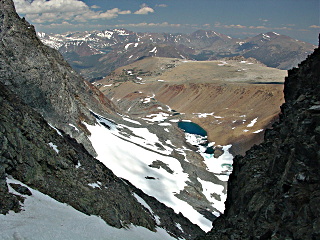 On the way to the ridge, we stopped to look down this chute to Dana Lake. Earlier in the day some climbers with crampons climbed up this chute to get to Mt. Dana's summit.


This panorama gives a detailed look at the ridge that must be crossed. Our path took us about 2/3 of the way across it on this side and then we passed to the other side for the finale. Joey went straight to the highest point on the ridge and then joined us near the crossover point.
It was important to avoid the loose rock below the hard crest and to carefully test rocks before using them.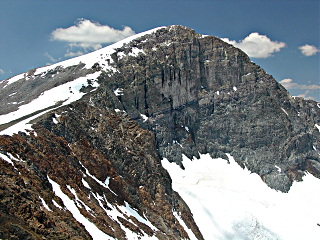 Looking back at Mt. Dana, we could admire the east wall of Mt. Dana. The bluish ice of what is left of Dana Glacier is at the bottom surrounded by this year's snow.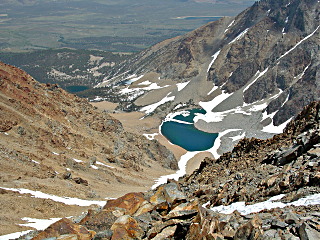 After crossing to the south side of the ridge, we could look down on Kidney Lake and Gibbs Lake at the head of Gibbs Canyon.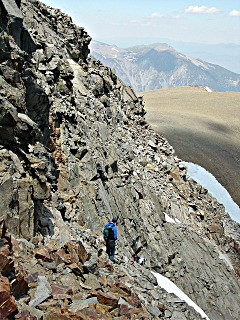 Here is the final part of the crossing with the upper edge of Dana Plateau in the background. Richard is taking a lower path. Joey and I took an upper path.

---
August 14, 2009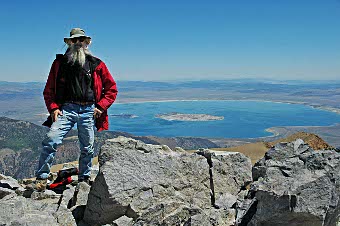 Richard Radanovich and I (in picture) went up Mt. Dana again on an unseasonally cold and windy day that made the air particularly clear. The view of Mono Lake from the top was as clear as I have ever seen it.
Although I was somewhat out of shape, my recent 30-pound weight loss made it possible for me to make it in 3 hours 40 minutes, 30 minutes faster than last year.
I paid a price on the descent when my legs turned to rubber, perhaps for lack of extra fat to burn. They recovered by the end of the 3-hour drive home.

---
September 18, 2011 - Panorama from top
Another trip up Mt. Dana. Having not done much hiking this season, I took my time and got to the top in 4 hours 30 minutes. It was warm and clear without any wind. For a science demo, I closed off two dry, empty 500 mL water bottles which will collapse on the way down and provide a data point for atmospheric pressure vs. altitude.

This 360+ degree panorama was stitched together from 14 images (click on it to get a 6 MB image). You may need to scroll horizontally to see its full width.
From left to right along the horizon are: snow-capped Mt. Patterson (11,673 ft) 40 miles to the north, CA; Mono Lake 10 miles to the northeast; snow-capped White Mt (14,252 ft) 50 miles to the east; peaks of the central Sierra above Bishop 50 miles to the southeast with the June Lake ski area in front, just 10 miles away; Mt Lyell (13,120 ft) 6 miles to the south with Lyell Glacier in front is the highest nearby peak; the Cathedral range to the southwest; Tuolumne Meadows 10 miles to the west; and Mt. Conness (12,649 ft) 8 miles to the northwest.

---
October 4, 2014 - Another hike to the top of Mt. Dana - No new picture
A high pressure region was predicted to come over the mountains for the first weekend of October and Richard Radanovich suggested we do another Mt. Dana hike. I had missed the past two years and was out of shape, but wanted to give it a try. I went up on Friday and hiked to Spuller Lake at the head of Mine Creek (a.k.a Bennettville trail). It was only about 7 miles round trip with 700 feet elevation rise to 10300 feet.
After camping at Aspen Campground in Lee Vining Canyon, we went up Mt. Dana. I was extremely slow taking 6-1/2 hours to go from the trailhead at 9943' to summit at 13052'. (Note: the latest revision of the altitude of Mt. Dana is a few different from earlier estimates.)
After another night in Lee Vining Canyon, I stopped at the 10 Lakes trailhead and hiked up 1500' to Halfmoon Meadow at 8900' elevation. I will return and go farther in the future. It was a delightful day-after hike from the Mt. Dana hike.
The weather was beautiful with comfortable daytime temperatures all weekend. The nights were cold and leaves were quickly changing to their fall colors.
---
Last updated: October 6, 2014

Craig Van Degrift if you have problems or questions with this web site.