A few pictures from a hike up Mt. Hoffman in the center of Yosemite National Park on September 27, 2004

Click on these images to obtain images with greater resolution

---

On the trail to Mt. Hoffman, just above May Lake (on the left), one starts to see this magnificent view toward the East. Tuoloumne Meadows, Mt. Dana, Cathedral Peak, and much more can be seen here. A little higher up Tenaya Lake will become visible. This panorama spans from nearly North on the left to nearly South on the right.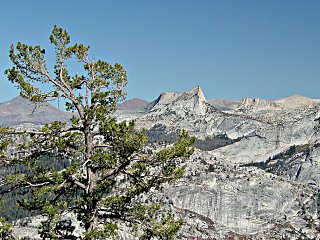 A closer look at Cathedral Peak.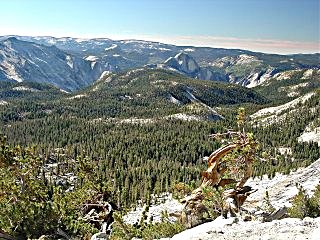 About half-way up, looking South, we are treated to this view of Cloud's Rest (left), Half Dome (center), and Glacier Point and Sentinal Dome (right).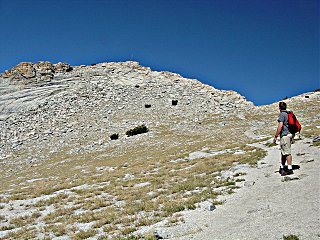 Bryce is checking out the final 200 feet. There is a weather station with its antenna on the top. We are approaching from the southeast.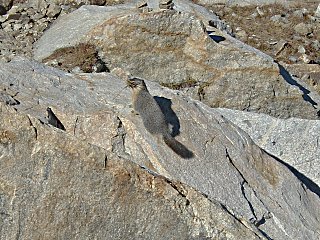 On the way back down, this marmot was gathering grass for a nest.

---
A second trip of Mt. Hoffman on June 3, 2007
This cute marmot was on top of Mt. Hoffman. He approached very closely, posed for the camera, but didn't get any of my lunch. It seems that these are ground squirrels with so much fur that they look much bigger.

Just below May Lake, we heard a strange repetitive, low-frequency call. On the return trip, we followed the sound to its source, a Blue Grouse which didn't mind posing while searching for a mate.
The spectacular sun-like coloration is normally hidden. It only appears while the grouse is making its mating call.
---
Last updated: November 22, 2012

Craig Van Degrift if you have problems or questions with this web site.