Half Dome Hike on July 12, 2006
Note: Clicking on pictures brings up 1280x960 versions

Half Dome as viewed from Glacier Point
The last half of the hike can be seen in this earlier picture taken from Glacier Point. The hike described here started 2.6 miles behind the photographer, 7 miles later descended from the right to Nevada Falls, looped around Liberty Cap dome, and approached Half Dome from the back side. The descent went down from Nevada falls to Happy Isles on the Valley Floor.


---
I had done about 50 hikes in Yosemite National Park without having done Half Dome. I tend to prefer hikes that are not so popular and had a certain smugness in thinking that the Half Dome hike was not all that special. I was wrong. Sure, the park information identifies it as "very strenous", but I had done lots of hikes they identified as "strenous" and had felt that the park descriptions were too conservative.
With that mindset, and to avoid the crowds of the valley, I set out to hike from the Sentinel Dome parking lot on the Glacier Point road to Half Dome via Sentinel Dome, Illouette Canyon and Nevada Falls. That choice added several miles and quite a bit of up and down to the hike before joining the normal Half Dome trail. Yeah, I had not done any serious hiking since last fall and then not very much, but I felt that I was up to the 25.4-mile trip and surely the steps and cable climbing at Half Dome couldn't be that hard. As it turns out, I was most definitely humbled.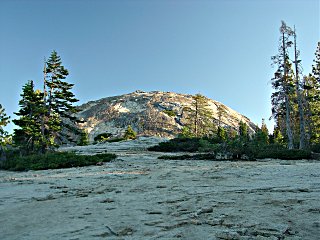 I started out at 6:00 am, and in 20 minutes had a nice view of the sunrise lighting Sentinel Dome.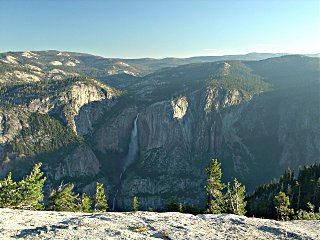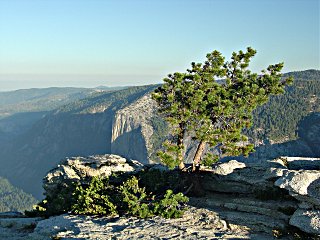 Looking toward the north and northwest from the top of Sentinel Dome, one can look down on Yosemite Falls and El Capitan.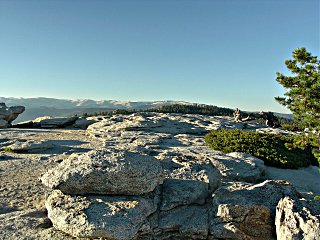 The top of Sentinel Dome is shown here looking toward the south. I think the log on the right is the remains of the famous Sentinel Dome tree seen in so many early photographs. New trees are growing, but that old tree had an exceptional shape and location - wind blown and right on the top center. Unfortunately, the view toward Nevada Falls and Half Dome were partially obscured by a morning haze from camp fires or perhaps a distant forest fire. Luckily, it cleared up considerably by the time I reached Half Dome.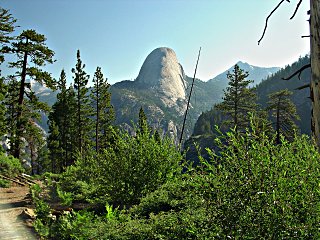 I decended 900 feet to Glacier Point where I joined the Panorama Trail to Nevada Falls. Descending another 1450 feet to the bottom of the Illouette Valley, I could then look up at Half Dome on the other side of the east end of Yosemite Valley. After crossing the Illouette River on a deluxe footbridge, I headed up the other side. 10 minutes later, I noticed a very large brown rump 70 feet ahead of me. The bear hadn't noticed me and I stopped and watched him plod up the trail, sniffing right and left, and going around a bend 150 feet ahead.
First thought: Should I get my camera out and take a picture? I decided that the activity might attract his attention and I really didn't want to take my eyes off of him. After all, he was very large and might not be afraid of a solitary person with two tuna fish sandwiches and a bag of nuts in his pack. So I decided to wait and see if someone else might come up the trail. Sure enough, within a minute, I heard lots of voices - a group of camp kids heading for Half Dome. I told them about the bear and we decided that lots of noisy people would probably cause Bruno to get off the trail. That turned out to be the case. We neither saw or heard him even as we passed by where he had gone three minutes earlier.
I have to wonder how many times I have been within a few minutes of a bear or mountain lion.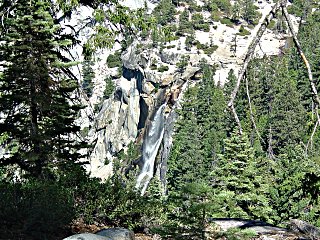 The trail out of Illouette Valley rose 750 feet to a point 650 feet above Nevada Falls. The falls were much more spectacular than can be seen in this old September, 2004, picture taken from the same trail. After descending to the top of Nevada Falls and eating one of my sandwiches, I started to realize that I was in fact getting much more sore and tired than I had expected. I really was out of shape. By the time I had gone up the first 1000' rise from Nevada Falls on the John Muir trail to the point where the spur to Half Dome separates from it, I was really feeling tired and sore. I started wondering if I would in fact get up Half Dome and back before dark.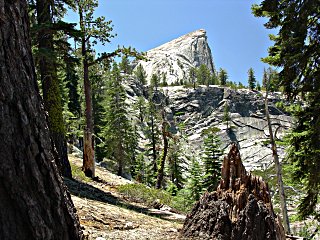 Another couple of miles and 800 feet of elevation rise and I could finally see the last 1000 feet of elevation rise with its steps and cables. Within Minutes, I concluded that going to the top would cause me to get back to my car very late at night and extremely sore. An alternative would be to go down the much shorter, and all downhill, trail to the floor of Yosemite Valley. I had already been asking people if they knew if a shuttle went up to Glacier Point from the valley, and if so, how late it might run. Basically, no one really knew, so I decided that I would give up going to the top, eat my second sandwich, rest an hour or so, and trek the 12 miles with its 2900 feet of downhill and 3000 feet of elevation rise to get back to my car.

Then along came Pete, a New Jersey electrician about my age and in much better shape. He suggested that I go to the top and then down to the valley. If there were no shuttle, he and his wife were lodged at Chinkapin on the way to Glacier Point and they could give me a ride to my car. Poof! My excuse to stop evaporated, and I forged ahead toward these steps which go up 400 feet. Going to the valley would make the hike 20.6 miles instead of 25.4 and avoid the 650 and 2350-foot uphills getting back to my car. It was an offer I couldn't refuse.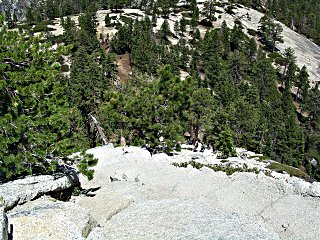 A while later, I was looking back down the steps.
The group of camp kids had made it and passed me on their way down. In total, I think about 200 people went up Half Dome that day, perhaps about 10 as old or older than I. My hat's off to all.

Finally, I could get a good look at the famous cable section. If you click on this picture to get the large version, you can clearly see the people going up the cables.
The post pairs are about 8 feet apart and most have a 2x4 board between them on their upper side to provide a solid footing for resting. I ended up resting at every second or third board, usually sitting under one of the cables with my feet against the post and board. It took me about 30 minutes to go up this second 400-foot rise.

I had lunch near the highest point, but others had lunch at the most spectacular spot. Yosemite Village and the Ahwahnee Hotel can be seen in the valley below. Sentinel Dome and Glacier Point are on the left, El Capitan is in the upper center, and in the very distant background looking out the west end of Yosemite Valley can be seen a faint outline of the Pacific Costal Range near San Jose, 140 miles away on the other side of the San Joaquin Valley.

Here are a few other pictures from the top: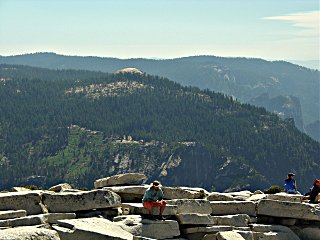 Toward the southwest - Glacier Point, and behind it, Sentinel Dome. A mile behind Sentinal Dome is where I started.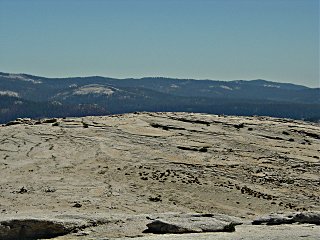 Toward the south - This shows the flatish area at the top of Half Dome that seems big enough to hold a couple of football fields.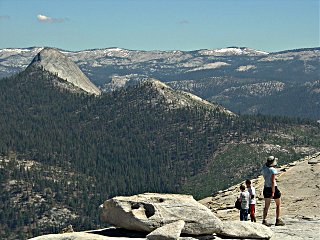 Zoom toward the south-southeast - Mt. Starr King is in the foreground and Buena Vista Ridge and Peak are behind it.


Panorama toward the east - Looking Over Little Yosemite Valley, Echo Valley, and toward the headwaters of the Merced River. From left to right we can see Tanaya Canyon, Cloud's rest, the Cathedral Range with Vogelsang Peak, Merced River's Echo Valley, Mt. Lyell in the distance with its large snow fields, Electra Peak, Forester Peak, Mt Clark, Gray Peak, Red Peak and way in the distance on the right is triangular Gale Peak above Chain Lakes at the southeast corner of the park.
Note: Barrel distortion of my lens, slight perspective changes, and slightly different exposures cause these pictures to not match perfectly.)

Toward the north - A telephoto shot of Mt. Hoffman at the center of the park.

I got back down off the cables at a little after 4 pm and arrived at Happy Isles on the valley floor at about 8 pm. I soon learned that there were no shuttles to Glacier Point and that the last tour bus to there left at 1 pm. Luckily, Pete was at the Deli in Yosemite Village and I got back to my car by 10:30 pm.
---
Last updated: December 12, 2012

Craig Van Degrift if you have problems or questions with this web site.